I currently am enjoying the last barbecues with friends and family on those late warm (or not so warm as we have here in Austria :() summer days. It's a coming together, spending time with loved ones, enjoying sun, summer & drinks. Just laughing, chatting and feeling so free, just happy. You're just sitting around a table and enjoying your time. Honestly, who doesn't enjoy it? I am really going to miss the smell, taste and atmosphere of the barbecuing during winter, when it is cold and you only step outside when there is no other option. Thinking about this just gives me even more reason to enjoy every day, on which sitting outside and having a barbeque is still possible, as much as I can.
Barbecue to me means grilling some goood meat and making a bunch of delicious sides & salads. But who only wants boring salads. I mean – I get it, get some Vitamins in and be healthy but that doesn't have to be boring. It is so simple to transform a boring salad into super delicious and addicting one with very little effort and ingredients. I can tell you so much, this salad is so mouthwatering and has such a great flavor so everyone will love it. Believe me. Even my brother who can be hunted with salads, really liked it. This salad is such a great side for any grilled dish. And if you don't feel like barbecuing you can just make more of it, top it with some feta cheese, chickpeas or grilled prawns to enjoy it as a main.
So why still sit around? Hurry up to still get those delicious late summer peaches from your local market and step into the kitchen. Stone fruit season is such a great season for cooking. You can make amazing sweets like tartes, cobblers, ice cream and muffins, just to name a few, or you can enjoy them in savory dishes such as salads, skewers, curries or chutneys. You can even mix them into drinks and make a Bellini and home. How versatile? For this salad I'd recommend using some orange or pink peaches as they make the salad nice & colorful. Also take some that are a little firmer so you don´t have problems with taking them off the grill because they´re falling apart. If you feel really fancy you can drizzle some balsamic reduction on them while grilling to make them extra sweet.
The dressing for this side is not your average oil-and-vinegar dressing, no it is much better. I used some creamy Tahini which is an oriental sesame paste, a fresh egg yolk, a good squeeze of lemon juice from lemons we grew in our garden, some balsamic vinegar for a refreshing twist, a little honey to sweeten it up and some Dijon mustard to give it that addictiveness! Absolutely bomb ?. To get that extra creaminess you don't just whisk the ingredients but similar to a super quick mayo you use a hand blender and pull it up in one go. It just creams it all up and you get your new favorite salad dressing. Sure, it takes a little more time than simply adding 2 ingredients but it's so worth it.
To give the salad some more texture and make it more filling I added a few other ingredients. Some avocado (because what is a salad without avocado?), for some extra vitamins, fiber, and healthy fats, some cucumber for freshness, vitamins, and crunch, a mix of fresh herbs for a summer feeling a flavor, and last but definitely not least I decided to sprinkle some pine nuts. I love nuts in salads because I think that they make it more filling, add a good crunch, and just make it a little heartier.
Now I can honestly just give you one more tip; go to a market to get some peaches, and you´ll be the chef of your next barbeque.
If you recreate this I would love to see it, so just tag me on Instagram with @uneptcuisiniere or with the hashtag #unepetitecuisiniere so I can see if you enjoyed it as much as I did. You can also send me a mail or leave a comment behind, I would be really thankful for that!
I hope you enjoy it,
Katie <3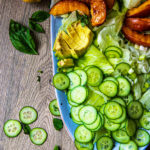 Grilled Peach Salad
Amazing salad to round up the barbeque season
What you will need
For the Salad
4

handful

Salad

I would recommen using something like spinach or lambs lettuce

2

Peaches

1

small

Cucumber

1/2

Avocado

3

Spring onions

2

tbsp

Pine nuts

1/2

handful

Basil

1/2

handful

Mint

salt & pepper
For the dressing:
1

Egg yolk

1

tbsp

Tahini

2

tbsp

Olive Oil

1

tsp

Dijon mustard

1

lemon

juiced

2

Tbsp

vinegar

you can use a little less if you prefer it less sour
How to
Thats how it works:
Wash and rinse the salad and add it into a bowl. Cut up the paches into 1.5cm thick slices. Finely slice the cucmber and add it to the salad. Cut the spring onions into thin strips and take the rings apart fromeach other. Slice the mint and basil and roast the pine nuts.

Brush the hot grill with a little olive oil and place the sliced peaches on top. Let them grill for about 3 minutes on each side.

For the dressing, get a tall mug. Gently place the egg yolk on the bottom, in the middle of the mug. Add therest of the dressing ingredients on top of it. take you hand blender and carefully place it on top of the egg yolk. Turn it on and slowly pull it up in one go. This will make the dressing really creamy.

Mix together all of the ingredients in the salad except for the peaches. Pour the dressing on top and mix again. Divide the salad onto 4 bowls and top the with the grilled peaches.