A friend of mine is from brazil. And she always tells me about all the delicious acai bowls she eats when she is there. Every. Single. Time. We. Meet. This makes me so jealous! I absolutely love Açai Bowls but it is so hard to get one (and if you get one, to get a good one) in Vienna. Now I know one place that makes really delicious ones and that is Superfooddeli! But unfortunately this one place that actually has them is 1 hour away from my home with public transport 🙁 !
Since I am a really huge fan of these bowls and do not want to spend 2 hours reaching that place and coming back I decided to make my own one. I bought Açai Packets from that store and made it at home. Absolutely delicious! And so easy. I really haven´t expected it to be that easy! The clue to making a good Açai Bowl is having a good blender. If your blender is not very strong, it is going to be hard for it to blend everything up smoothly and there will remain chunks in the smoothie.
I love having such a bowl for breakfast or brunch or even as a light lunch! It is prepared so quickly and really delicious. If you are off heading somewhere you can just pour it into a Tupperware and take it on the go! I love this dish!
Isn´t it a ton of Sugar?
Although I love making smoothie bowls, an issue I have with those kind of meals is that I am usually eating tons of sugar. Bananas, berries, mangoes, acai, … whatever. They are really delicious and full of vitamins but sadly also full of sugar. If you blend all of them up, I believe that you eat more fruit pureed than you would normally eat as a whole. To still get a delicious, creamy, and sweat bowl but not consuming to much sugar I decided to add some veggies to my meals. And believe me, this was the best decision!
I could not taste the vegetables at all, I couldn´t have told that they were in there. My 2 tips to adding vegetables to your smoothies are:
1st: freeze them before adding. You not only get a creamier and thicker consistency but you will also taste them less. I do not know why, but it absolutely is worth it.
2nd: use vegetables that do not have an intense color. In this case, it doesn´t matter too much since the smoothie bowl is pretty dark anyways but when making a bright smoothie bowls, e.g. a mango one and you add a dark vegetable like spinach, the whole meal will get a darker color and will look less appealing. If you want to make a green smoothie though, this is something different, the go ahead and add all the spinach and kale. For my Açai Bowl I used celery and zucchini, which I have peeled before a froze it.
What about toppings?
When it comes to the toppings you are absolutely free and can decide according to your desires! If you prefer fresh fruit, whatever fruit you like, something crunchy, something frozen, something creamy, the possibilities are endless! For me, I believe that toppings are the best part of any smoothie bowl!
As delicious as they are, you can easily go overboard. When adding tons of nut butters, chocolate chunks and sugar loaded granola you can easily turn a light and healthy meal into something rather heavy and dense. For my topping I like to use some more fresh fruit, like mango and berries, some homemade healthy granola, coconut chips, goji berries, hemp seeds, a spoonful of nut butter (I absolutely love almond butter with this!), some cut up banana and some edible flowers.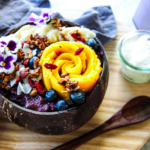 Açai Bowl
A low sugar twist on our all time favorite smoothie bowl
What you will need
For the smoothie
100g

g

frozen Acai

1/2

Banana

frozen

2

stalks

Celery

frozen

1/2

Zucchini

frozen

100

g

Blueberries

frozen

100

ml

Almond milk

more/ less depending on how thick you want it
For the toppings
1/2

Mango

Blueberries

2

tbsp

Granola

1/3

Banana

1/2

tbsp

Goji Berries

1

tbsp

coconut flakes

1

tsp

almond butter

or any other nut butter
How to
Thats how it works:
The night before making the bowl peel the zucchini and cut it up along with the celery and banana. Freeze an Açai package and the berries.

Add all the ingredients for the bowl to the blender and blend it up. Start with a little nut milk and work your way up adding a little a time, depending on how thick you want your bowl to be.

While you are blending the smoothie, take the mango and cut down the half. Peel it and place it with the flat side down on a cutting board. Finely slice it into really thin strips. The thinner the easier to make the rose. Once you have cut it, carefully slide them slightly apart, so it is a long strip. Take an end of the long strip and start rolling it so it will turn in itself so it turns into a rose. Cut up the banana into slices.

When the smoothie is blended well, pour it into a bowl. Top it with the mango rose, the banana, the granola, the berries, the goji berries, the coconut, almond butter, and edible flowers.