This dish basically is a lighter twist on stuffed cannelloni – just without the cannelloni. When I was in the kitchen creating this dish, I actually did not mean to recreate cannelloni or put a lighter twist in them. I just let myself experiment. After finishing cooking, when I ate this dish I realized that it actually looked like the typically Italian pasta. It tasted sooo good. Just all the flavors and textures worked really well together. The crunch of the zucchini, the texture of the ground meat, the softness of the melted cheese, and the intense flavor of the tomato sauce.
It is a little work, to make this dish, so it is not the perfect dish to have as a quick dinner, but it is if you have some more time and want to cook it together with someone else on a date night or a family dinner. I really, really like this dish because it is family friendly, still sneaks in some vegetables and kind of is a lighter twist on a baked pasta dish.
I decided to use minced veal as a meat simply because I really like the flavor and it is pretty lean. If you prefer to use beef, turkey, pig, or even a vegetarian mince that would work too. I just think that the veal doesn't overpower the other ingredients but still brings a nice flavor and texture. Also, it makes the dish a little bit more Italian because in Italy, veal is used very often. When frying it in the pan, don't leave it in there for too long since it shouldn't be completely cooked through as it would get dry in the oven. Also if you do not have an oven safe pan, you can use any other oven safe dish to bake the "cannelloni" in.
The Ricotta that is in the filling along with the meat gives this entire dish such a delicious richness and hearty flavor, which I realllllyyy like. Of course, you can use cream cheese or curd cheese instead but it won't be the same. Ricotta just has this little something and this instant-Italian twist on every dish you use it in, so I would not substitute it with anything else. All the herbs that are packed into the Ricotta just give it a freshness and make it real good. Never skip the herbs & spices!
When baking the zucchini in the oven, the sauce will get more liquid since the zucchini will loose water. I personally like it because you can pour some more onto your plate but if you prefer to having it thick you can blanch the zucchini strips in simmering water for a few minutes and dry them with a paper towel. This is quite a lot of work because there are a lot of them, so I leave this step out and go for the thinner sauce. Especially when there is not too much time then I'd recommend not doing this extra step.
All in all, this is a pretty simple Italian inspired dish. It is a little bit of work but really fun to make and such a great way to lighten up stuffed cannelloni. I know that some Italians would come and beat me up now if I keep calling this "cannelloni" but it is really good. A dinner that all of your family is going to love!! If you do make it, be sure to share it with me on Instagram and tag me with @uneptcuisiniere or #unepetitecuisiniere. I'd love to see it!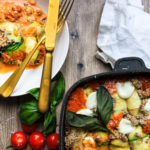 Veal Stuffed Zucchini Cannelloni
A delicious lighter twist on the traditional italian classic. Made with ground veal and herbed ricotta, which is all packed into nourishing Zucchini and topped with fresh tomato sauce and molten cheese. Just good.
What you will need
2

Zucchini

1.5

tbsp

Olive Oil

1

White Onion

2

Cloves

Garlic

400

g

Ground Veal

can substitute for any other meat

200

g

Ricotta

1

Egg Yolk

1

tbsp

Minced Basil

1

tbsp

Minced Sage

1

tbsp

Minced Oregano

400

ml

Tomatoe Sauce

50

g

Parmesan Cheese

Do not use pre-grated ones if possible since the quality is alway lower

50

g

Mozarella Cheese

Buffalo is best
How to
That´s how it works:
Preheat the oven to 180C. With a peeler, peel of strips of the Zucchini that are about 1-2mm thick. In a pan heat up the olive oil. Meanwhile finely mince the onion and garlic. Once hot add them to the oil and cook them for about 1 minute. Add the meat and generously salt and pepper. Cook for about 5-8 minutes, it does not have to be completely cooked through. 

In a bowl mix the Ricotta with the egg yolk, the fresh herbs, salt, and pepper. On a flat surface lay out about three to four Zucchini strips* at a time, depending on how big they are, slightly overlaping. 

Grate the parmesan cheese and chop of the mozarella into about 1.5 cm large pieces. 

At the lower end of them spread one tablespoon of the Ricotta mixture and 1 tablespoon of the minced veal on top. Carefully roll them up and place them aside. Continue until there is no Zucchini and Meat left. 

In an oven-safe dish or pan spread half of the tomato sauce. Carefully place the Cannelloni horizonatlly in it. Top them with the rest of the tomato sauce and the different cheeses.

Bake in the oven for about 12 minutes, so the cheese has all molten and the Zucchini is cooked through. Serve with some fresh basil and enjoy!
Notes
*if you want the dish to be less watery, blanch the Zucchini strips in simmering water for about 1 minute here. Then transfer them into an ice bath and pat them dry. Continue to follow along the recipe. 
I do not think that this step is necessary because I like it to be saucy but this depends on your preference.