Fall is officially here and the temperatures are going down. Although the weekends are still super nice and sunny, you know that fall is here as soon as the leaves start to turn red, brown, and yellow and the first chestnuts are lying on the ground. Fall is such a great season, such beautiful colors and beautiful landscapes. So beautiful. Fall also means comfort foods to me and hot soups. But only because the season changes doesn't mean just eating unhealthy comfort foods. There are so many great seasonal foods you can pack into super delicious salads.
With this salad I tried to bring all of the beautiful fall colors into one bowl. The orange in the pumpkin, the red in the pomegranate seeds, the yellow in the pear, the brown in the almonds, and the green from the spinach. It is like eating the rainbow. A lot of people see salads as summer-food but I think that they are a great way to switch up things and not only eating soups and heavy dishes. This one is super refreshing because of the dressing but still really hearty because of the war roasted pumpkins, and the nuts.
I used Delicata Squash because I think it works great in Salads and or roasting. It has a slight sweet taste and is not quite as dense as for example Hokkaido pumpkin. It is super simple to bring out the flavor and it roasts for only 20 minutes which I think is really great. I seasoned it very simply because I think that otherwise it would overpower the flavor of the rest of the salad. You can use any pumpkin you like but the roasting time will vary depending on the type of pumpkin.
As a base I decided to go for baby spinach because of its mild flavor and it soaks up the flavor of the dressing easily. I simply love the slightly buttery taste and texture. If you do not like spinach you can go for anything else, lambs lettuce would work great too but I would not recommend kale because it needs more heartiness in a dressing to taste really good in a salad. You can also do a mix of different ones, it would work really great too if you decide to make it a little fancier! The pear on top adds some sweetness and soft butter-like texture, which goes really well with the salad base and the crunch of the toppings.
For a little crunch I added the pomegranate seeds and the almonds. You can buy prepackaged pomegranate seeds but I like to to buy a whole pomegranate and take them out myself. It is a little work, takes maybe like ten minutes but you do not need unnecessary plastic packaging, they are fresher, and they last for longer, which I think is great. The almonds just give the whole salad some richness, healthy fats, and protein. I really like the heartiness and kind of dryness of almonds as I think they pair very well with the soft, juicy roasted Delicata Squash but some walnuts would work really well in szuch a salad too! Walnuts are a great seasonal food in fall and also regional here in Austria but I unfortunately did not have them on hand when I made this salad.
For the dressing I decided to use Tahini because it is my favorite ingredient when it comes to salad dressings. It makes it so incredibly creamy and tastes so good! Also Tahini is a great healthy fat and contains a lot of vitamins. I mixed it with some Dijon mustard, lemon juice, a little olive oil, some of the pomegranate juice that ran out when I took out the seeds, and a tiny splash of maple syrup. Just mix it all up and voila, so delicious!
I really like this salad to enjoy as a light lunch and making it fresh but it also works great as meal prep if you store the dressing separately. It comes together really quickly and simple and is such a great healthy fall dish! If you decide to recreate it, make sure to tag me on Instagram with @uneptcuisiniere or with #unepetitecuisiniere! I hope you will enjoy and like it as much as I do.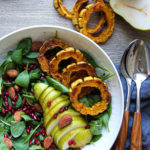 Fall Harvest Salad
A healthy and delicious salad to enjoy al of the seasonal foods that fall brings us.
What you will need
For the Salad:
200

g

Baby spinach

1/2

Pear

1/2

Pomegranate

400-500

g

Delicata Squash

1/2

tbsp

Olive Oil

30

g

Almonds
For the Dressing:
1

tbsp

Tahini

2

tbsp

Pomegranate Juice

1

tbsp

Lemon Juice

1/2

tbsp

Olive Oil

1

tsp

Dijon Mustard

1/2

tbsp

White wine vinegar
How to
Thats how it works:
Cut the Delicata squash into about 1cm thick slices. Remove the seeds and place them in a bowl. Generously salt and pepper them and mix the with the Olive oil. Place them on the baking tray and make sure that they do not overlap. Bake them in a preheated oven at 180C for about 20 minutes.

While the pumpkin is baking, wash the spinach and the pear. Plcae the salad into a bowl and cut the pear into about 1.5cm large cubes. roughly chop the almonds. Cut the pomgranate in half and take out the seeds. I believe it is easiest to carve them out with a fork into a bowl and then take out the parts from the shell thaat came with it. Add the two fruits to the spinach along with the chopped up nuts.

Add all the ingredients for the dressing into a bowl and mix well until combined. By now the pumpkin should be cooked through, so take it out of the oven. Mix the dressing with the salad, divide it onto two plates and top it with the roasted squash. Serve and enjoy!