When it comes to making vegan desserts, I am usually not the first person to be asked. Don´t get me wrong, I do like desserts, although they cannot be too sweet, and I do like vegan food but I just have so little experience with making vegan desserts. I am all into that richness and creaminess of dairy products as cream, mascarpone and cream cheese. Especially in summer, when I do not want to turn the oven on but still have a slice of cake.
This cake has definitely changed my mind though. I do not need the rich milk products (which are not necessarily healthy) in order to make a no-bake cake. A plant based version definitely is an alternative. It still contains a richness and a lot of flavor but is healthier and vegan! I do not want to call it a vegan cheesecake as others might do, because I do not believe that it tastes like cheese and in my opinion a CHEESE cake can´t be vegan.
I made this recipe using a sugar free syrup and only sweetened it up with a little maple syrup because I wanted to make it a healthier and refined-sugar free version but also not have it too sweet. The coconut milk and the cashews already give it some sweetness so I did not believe that it is necessary to add a lot more. If you are a sweet person, you can add as much syrup as you desire!
For the crust I decided to use few ingredients and make it simple. It uses dates, for binding and natural sweetness, almonds, for texture and healthy fats, oats for carbohydrates, protein, fiber, and lots of vitamins, a pinch of salt to bring out the flavor, and lastly some coconut oil to bind it all together. I think that this tastes like rawnola, basically like a muesli and I loooove it. If you want to you can absolutely make the recipe for the crust and eat it with some milk or yoghurt or even form it into energy balls to eat them as a snack.
The cream layer is made with full fat coconut milk, to keep that richness but still lighten it up a little )if that makes sense), cashews, that give the cake a sweet hint, add texture and creaminess and loads of healthy fats and proteins, some coconut yoghurt for more creamy deliciousness (I think b now you can tell that this is going to be a creamy cake!), some agave to sweeten, sugar free lavender syrup to add some flavor and agar to bind it all. If you cannot find a sugar free lavender syrup or a lavender syrup at all, this recipe works very well with any other syrup as well.
If you are allergic, or do not like almonds you can substitute them with any nuts of your desire, which is the same for the dates. They can be replaced with any dried fruit you like, as apricots or figs or else something. If you want to get a little fancier with the crust and add some seeds such as chia, hemp, or sunflower, feel free to do that but I decided to keep it simple and use few ingredients.
I like the cake most when it is enjoyed cold, straight out of the fridge. When it is frozen it loses some of the flavor so I would not recommend doing that. This cake works perfect if you have a group of friends over and some are vegan as this is a delicious desset for anyone vegan or non-vegan. It is pretty healthy as it contains lots of healthy fats, protein, carbs, and vitamins so it is a balanced and delicious snack.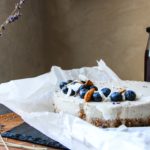 Vegan Cashew Lavender Cake
A really delicious vegan dessert
Soaking & Cooling time
10
Stunden
What you will need
For the crust:
130

g

Dates

about 5

50

g

Oats

80

g

Almonds

1

tsp

Coconut Oil
For the cream layer
115

g

cashews

1

can

full fat coconut milk

150

g

coconut yogurt

20

g

agar-agar

60

ml

sugar free lavender syrup

can substitute for any other fruit syrup

1

tbsp

maple syrup
How to
Put the cashews in a bowl and let them soak for at least 6 hours or overnight.

Blend the dates in a food processor until it forms a paste. Add the oats, almonds, coconut oil and a pinch of salt and blend again until it becomes firm texture. Line out an 18cm springform pan with parchment paper. Add the crust into the pan and press it to the ground and all the edges. Place it in the fidge.

Drain the cashews and place them in a food processor. Add the coconut yoghurt, the maple syrup, and the lavender syrup and blend until smooth.

Place the coconut milk in a sauce pan along with the agrtine. Bring it so a boil and let cook for 2 minutes. Add one tablespoon of the cashew cream into the coconut milk mixture and mix well. Pour it back into the rest of the cashew cream and mix it well (by hand!). It works best with a spatula. If you prefer it sweeter, add a little more lavender or maple syrup here.

Take the springform pan with the crust out of the fridge and pour the cashew cream on top. Place in the fridge for at least 5 hours to overnight to let the agartine get firm.

When ready take it out of the fridge and garnish with almonds, blueberries and some fresh lavender.

Serve and enjoy!