So summer is basically over, but who says that you only can have ice cream in summer? Well, I definitely don't! I think you can have Ice cream all year round! Well, at least these really delicious healthy, vegan ice cream sandwiches. 
In summer there are soo many ice cream sandwiches at every corner. And they are delicious. But if you eat one of them every day that (unfortunately) can't be too healthy. But they are so delicious, right? So that's why I made this healthy version of cookie dough ice cream sandwiches so you can indulge with your sweet tooth but still nourish your body. And they are really delicious! They are sweet, chewy, and really delicious.
Just to tell you, the cookie dough does not exactly taste like the one you would have when baking cookies with butter, eggs and white flour. But it tastes similar. And really delicious. And it is healthier, way healthier. These super delicious bars are even keto & low carb. I just really like every single bite I take of them and they are so addictive. Like so. I feel like you can always eat them no matter what time. They are just so quick and easy to grab which makes a perfect snack. Simply store them in the freezer and you can just get one whenever passing by.
The cookie dough is made out of simple ingredients. I used dates for sweetness, which are really high in fiber, antioxidants, other health benefits, some almond butter, for some creaminess and healthy fats, vanilla extract, to get that cookie flavor, apple sauce for sweetness and texture, and coconut flour to reach a cookie consistency, and flavor but still get some protein and fiber. So good. And so simple to make. Just blend it all up, so simple, no?
The filling is even easier. It's 4 ingredients. It's just frozen bananas, coconut yoghurt, vanilla extract, and figs. The vanilla extract does make such a difference in it as it turns the ice cream from average banana tasting nice cream into vanilla ice cream which is sooo good in-between the two layers of cookie dough. The fresh figs just give it some freshness and fall – like feeling but you can leave them out or substitute them with any other fruit if you don't like figs. I just really like their sweetness and think they work so well in it.
To give everything the cherry on top I dipped the frozen sandwiches into melted chocolate and drizzled some extra on top. So good!! I used my favorite brand of all time, which is HU Chocolate. It's so simple ingredients without any refined sugar, or preservatives, just simple and wholesome ingredients. They have so many different flavors but I went for basic sea salt as I think the sandwiches are already really packed with awesome flavor! I hope that you will like this super easy dessert/ snack and it will help you to find an excuse for also being able to eat ice cream in winter. If you do recreate it be sure to tag me with @uneptcuisiniere or with #unepetitecuisiniere!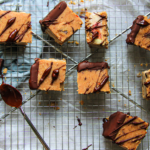 Healthy Vegan Cookie Dough Ice Cream Sandwiches
Perfect dessert or snack (not only in summer!!) and so good!
Total Time
9
Stunden
20
Minuten
What you will need
For the cookie dough
9

small dates

about 200g

3

tbsp

almond butter

140

g

coconut flour

150

g

apple sauce

apple butter works too

30

g

dark chocolate
For the Ice cream
3

bananas

sliced up and frozen

1.5

tsp

Vanilla Extract

80

g

coconut yoghurt

or any non-dairy yoghurt
Other
70

g

dark chocolate

or chocolate chips
How to
The dough:
Cut the chocolate into small chunks.

Take out the cores of the dates and place them in the food processor until they create a sticky paste. Then add the almond butter and the apple sauce and blend to combine. Add the coconut flour and chocolate chips and pulse until well combined and having a sticky-like texture.

Take a loaf pan and lay it out with parchment paper. Press half of the cookie dough into the pan, on the bottom to create a flat layer. It should be about 7mm thick. Place it in the freezer and store the remaing cookie dough in an air tight tupper ware in the fridge.
The Ice cream:
Place the frozen bananas in the food processor or high speed blender (it has to be a really strong one because otheriwse it wont break the frozen pieces apart. Add some of the coconut yoghurt, but not too much to start with as you can still thin it out as you go. Lastly add the vanilla extract and blend until creamy. if too thick add more yoghurt.

Take the cookie dough out of the freezer and pour the ice cream on top. Put it back and let it freeze for at least 6 hours to overnight.
To finish:
Once frozen, place the remaing cookie dough on top of the ice cream layer and freeze for another 2-3 hours. Then take them out and cut them into 16 equal slices.

Melt the 70g of chocolate and dip the sandwiches in it with one side, then place it back in the freezer. Continue until all of the slices are covered with chocolate on one side. .

Store them in the freezer and they will last upto one month.