Who else really enjoys this hot weather? Me, definitely! Summer barbecues, picnics, meeting friends, going to the pools and beaches, just enjoying the sun, … Summer is just the definition of happiness!
I love going to local markets and shopping seasonal and regional ingredients. So many fresh fruits and vegetables just motivate one to eat healthy. The variety of colours and smells simply give you a good feeling. I did not pass by a single market since June where I haven't seen strawberries being sold.
In the past years I've always wanted to cook with strawberries but somehow I never really tried out a lot of dishes with them, so this summer I promised myself that I am going to experiment with them a lot. When ripe they just have such a sweet and juicy flavour that they pair wonderful with both sweet and savoury.
I really like the combination of lemons and strawberries since the lemons underline the sweetness of the strawberries and give them a refreshing twist. This lemon creme honestly is the best summer dessert. I mean, to be honest who likes to heat up the oven or stove when it already is 40 degrees outside? I don't believe anyone. Neither is it really nice to spend hours and hours in the kitchen when the sun is shining outside and you could go to the beach or pool and enjoy the weather, am I right?
The best thing about this recipe is that the time you spend in the kitchen preparing it is minimal and it is super easy to prepare. You simply have to throw the ingredients into a mixing bowl and whip up the perfect dessert. If you have guest over at your house, just prepare this in the morning and when they have arrived, just take it out of the fridge and enjoy.
Also it is really easy to prepare in big batches for a lot of people. When I first made this recipe, I made it for our garden party for 60 people! And guess what?! It was really uncomplicated and way less work than baking 60 muffins. I just prepared a multiple of my recipe and filled it into small glasses. Everyone enjoyed it and they were sooo fast! Nothing was left at the end.
When I made it I used local strawberries from Austria, and lemons from Italy. In this recipe I did not add a lot of sugar because I believe the mascarpone and curd cheese already have a slight sweetness themselves. I did not want the added sugar to overpower the lemon and strawberry flavour but if you prefer it to be sweeter, simply go ahead and add more sugar.
Now, don't let me stop you for longer by reading this post. I hope you enjoy this recipe and if you recreate it be sure to tag me on instagram with @happyfoodkitchen!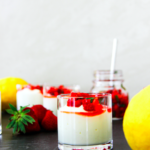 Lemon Creme with Basil Strawberries
Such a refreshing and delicious summer dessert. This creme is such a simple, light, and hugely flavorful summer treat. It is so simple to prepare and a great crowd pleaser. I hope you enjoy it – it is my summer go-to.
Total Time
4
Stunden
25
Minuten
What you will need
Lemon Creme
280

g

mascarpone cheese

280

g

quark

if not available can substitue for cream cheese

50

g

powdered sugar

1

lemon

zest & juice

140

g

yoghurt

2.5

sheets

gelatine

1

tbsp

water
Basil Strawberries
150

g

Strawberries

1

handful

basil

2

tbsp

lemon juice

1

tbsp

lemon zest

1

tbsp

powdered sugar
How to
Lemon Creme
Place the mascarpone, curd cheese and sugar into a mixing bowl and whip it up for about 3 minutes. Then add the juice and zest from 1 lemon and continue whisking for 2 to 3 more mintues. Set it aside and place the gelatine along with 1 tablespoon of water into a small pan. Stirring constantly dissolve the gelatine. When dissolved add a tablespoon of yoghurt and mix it into it. Pour the gelatine mixture back into the remaining yoghurt and whisk in until equally distributed. Fold the yoghurt mixture into the whipped cheese and pour it equally into 6 jars or bowls. Place it in the fridge for at least 4 hours to overnight to let the gelatine sit.
Basil Strawberries
Half an hour before serving cut the strawberries into small pieces and add them into a bowl. Finely slice the basil and also put it into it. In a seperate bowl add the lemon juice, zest, and the powdered sugar. Pour it over the strawberries and let marinate for half an hour in the fridge.
Before serving
add a quater fo the strawberries to each jar and garnish with a basil leaf. – Enjoy!
Notes
This is one of my favourite summer recipes since you do not have to heat up the oven, cook really, or spend a lot of time in the kitchen but still create such a delicious dessert. I've made it several times already this summer, also for our summer garden party. It is so simple to prepare and a really great crowd pleaser. If you have any questions don't hesitate to ask me! And if you recreate the recipe be sure to tag me on instagram! I hope you enjoy it and I wish you all a beautiful summer!
Xx Katie